Mixed lymphocyte reaction
Test your immunomodulatory drug by measuring effects on proliferation in a mixed lymphocyte reaction (MLR).
The allogenic immune reaction, when lymphocytes of two different donors are combined, results in T cell activation. The resulting proliferation and/or production of cytokines can be analyzed several days after start of culture. Effects of your immunoactivatory or immunosuppresive drugs can be determined in this MLR.
Depending on your wishes we can either repeatedly use the same donor pairs, or use numerous different donor pairs. Alternatively, the MLRs can be performed with PBMCs or monocyte-derived dendritic cells and isolated T cells.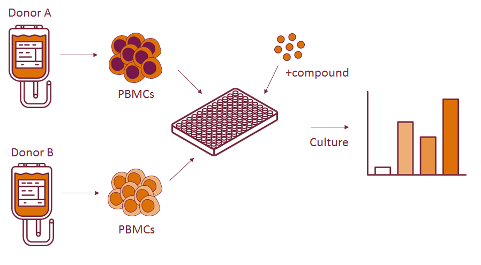 PBMCs of two donors will be mixed 1:1 and cultured in presence and absence of compound(s) of interest.
Example
Biosimilar comparison with 3H incorporation:
Here a biosimilar has been tested by measuring the effect of the biosimilars against the current standard on proliferative capacity of lymphocytes. PBMCs from two healthy donors have been co-cultured. The proliferation of the lymphocytes has been measured by the high trough put method of 3H thymidine incorporation.