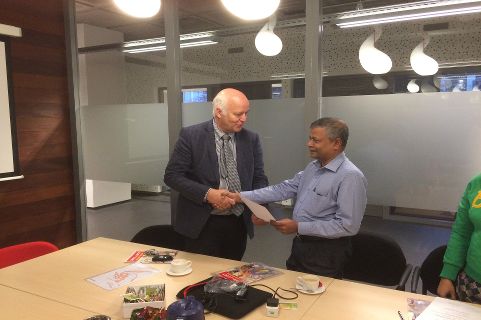 Consulting Services offers education programmes at all levels of the transfusion organization. Teaching and training activities can take place both in foreign countries as well as in the Netherlands, and can also be part of a specific project.
Programmes
community oriented
core business
clinical interface and use
Education goals
Educational programs are modular and follow specific interactive curricula in order to gain optimal results in both knowledge and skills. The programmes focus on competent and sustained human capacity building.
Educational programmes
individual: intended for teachers and trainers, focusing on leadership development
class: interactive seminars and workshops, creating awareness and developing human capacity
practical: on-the-job technical training, focusing on developing knowledge-based skills and competence
All educational programmes follow an agreed tailor-made curriculum and lead to a final report and a feasible Plan of Action.
The regular review of the educational programmes secures effectiveness and sustainability of implementation.
IDTM and Sanquin: 
Management of Transfusion Medicine programme
A unique, sponsored programme for current and potential leaders of blood banks in low and medium income countries.
Apheresis Training Programme
A basic knowledge course for apheresis nurses and operators as well as physicians interested in apheresis.