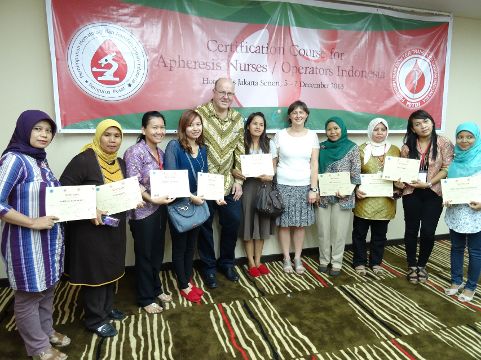 Apheresis Training Program Module
A basic knowledge course for apheresis nurses and operators as well as physicians interested in apheresis.
A training program for apheresis nurses in leukocyte collection and therapeutic apheresis developed by the Joint Task Force for Apheresis Education and Certification.
According to laws in many countries, workers in medical health care need to be qualified and competent for their job. To show competency of apheresis nurses a specific training program was identified. To guarantee uniformity and quality, a modular training program for apheresis nurses was developed by a group of experienced apheresis nurses and physicians (Joint Task Force for Apheresis Education and Certification; JTFAEC).
A modular program with theoretical and practical information and knowledge. This useful course for nurses and physicians in apheresis is potentially available in all languages.
Learning objectives
hematology
anatomy
physiology
calculations
adverse events
basics of apheresis
nursing aspects
quality
collection of cells for cellular therapies
pediatrics
therapeutic apheresis collection (exchange procedures and cell reductions).
For Apheresis Nurses and Operators
Within Sanquin Module Apheresis III is part of the training program for physicians (donor physicians and transfusion medicine specialists) and for apheresis nurses and operators performing apheresis procedures to collect cells for cellular therapies and therapeutic apheresis procedures in patients. The module is also accessible for functionaries in related professions.
Sanquin provides training theme's for various target groups covering the different aspects in transfusion medicine. Some of the training programs are given in cooperation with specialists in the field, working in hospitals.