Sanquin can help you identify new biomarkers, monitor disease state or therapy efficacy, and predict responsiveness to therapy in individual patients.
A biomarker is a biologic characteristic that can be objectively measured and evaluated as an indicator of physiological or pathological processes. Biomarkers can identify the presence or severity of disease in a patient, or they can be used to measure the response to a therapeutic intervention.
Hormone levels, protein levels in serum or cell surface markers on certain blood cells can all serve as biomarkers, depending on the disease or treatment.
In addition to being an important diagnostic tool, biomarkers can also be used to identify patients who are suitable for a specific type of treatment. Considering the increasing potential and abundance of personalized medicine, it is crucial to be able to stratify patients depending on whether they are likely to benefit from a given therapy or not.
In addition, early identification of therapy responders and non-responders increases therapy efficacy and cost effectiveness. A challenge lies in the fact that the clinical outcome, and thereby the success or limited response to treatment, is often only apparent long after initiation of therapy. Efforts are therefore directed at identifying correlates of protection (COP), which are an early marker of the patient's response to treatment, indicative of future clinical outcomes. Analysis of COPs thus allows monitoring the therapy efficacy in patients at much earlier time-points, as compared to having to wait for a clinical endpoint.
What can Sanquin do for you?
Sanquin has a broad and long-standing experience with assays developed to find and validate potential new biomarkers. Sanquin owns state-of-the-art equipment and services to answer various research questions related to biomarker discovery. For instance, Sanquin contributed significantly to the finding that anti-DNA antibodies are characteristic for patients with SLE and discovered that the antibodies can be reliably detected with an immunofluorescence technique1 (L.A. Aarden et al. 1975). Anti-DNA antibodies are still used globally as a biomarker for the diagnosis and prognosis of SLE.
Furthermore, based on findings of therapeutic drug monitoring and antidrug antibody assays, Sanquin offers tailor-made advice to either continue treatment, adjust the dose, switch to another biologic that targets the same molecule, or to direct therapy at another immunological pathway. This personalized approach not only benefits the patient, but also reduced costs by preventing overtreatment or use of ineffective drugs.
Examples
Anti-drug antibodies
Efficacy of biologics (therapeutic proteins as well as antibodies) often depends on whether antidrug antibodies (ADA) are formed or not.
Routine measurement of serum trough levels of biologics contributes to improved patient care. This therapeutic drug monitoring allows adjustment of the drug dose at the individual patient level if undertreatment or overtreatment is revealed. Measuring levels of ADA in sera aids in clinical decision-making. Whether or not a patient develops ADA against the first biologic, has implications for the choice of an alternative biologic treatment. Sanquin has published multiple studies in which a clear relationship between levels of therapeutic antibody, formation of ADA and efficacy of therapy is demonstrated, in for instance patients with rheumatoid arthritis treated with adalimumab or infliximab, or in patients with Bechterew's disease who received infliximab.
Cellular phenotyping
While for many years it has already been possible towe could already measure CD4+ T cell/CD8+ T cell ratios to provide information on the status of the immune system of HIV patients, recently it has become possible that more complex cellular analyses can provide us with valuable information. At Sanquin, a large cohort of samples from patients receiving allogenic stem cell transplantation, is being monitored with the aim to find subsets of peripheral blood cells predicting the development of graft-versus-host disease (GvHD). With large flow cytometric analyses many cell subsets are charted in order to predict the development of acute GvHD. The longitudinal sampling will enable us to monitor the course of the development of GvHD.
Read more at the pages of Carlijn Voermans and/or Sacha Zeerleder on Sanquin's research pages.
T cell specificity
Sanquin has developed MHC multimer analyses (combinatorial coding) that allows rapid and comprehensive analysis of disease-associated or therapy-induced T cell responses, in small sample volumes (28 different MHC/peptide combinations can be analyzed in only 8 ml of blood). This high-tech method involves fluorescently labelled multimers that bind to antigen-specific CD8+ T cells that recognize specific HLA-binding peptides. We can perform this assay before and after initiation of therapy to study therapy induced CD8 responses.
We can measure known biomarkers or discover new biomarkers.
References
Immunology of DNA. III. Crithidia Luciliae, a simple substrate for the determination of anti-dsDNA with the immunofluorescence technique.
Aarden LA, de Groot ER, Feltkamp TE. Ann N Y Acad Sci. 1975 Jun 30;254:505-15
Clinical response to adalimumab: relationship to anti-adalimumab antibodies and serum adalimumab concentrations in rheumatoid arthritis.
Bartelds GM, Wijbrandts CA, Nurmohamed MT, Stapel S, Lems WF, Aarden L, Dijkmans BA, Tak PP and Wolbink GJ. Ann Rheum Dis 2007: 66(7):921-6.
Development of antiinfliximab antibodies and relationship to clinical response in patients with rheumatoid arthritis.
Wolbink GJ, Vis M, Lems W, Voskuyl AE, de Groot E, Nurmohamed MT, Stapel S, Tak PP, Aarden L and Dijkmans B. Arthritis Rheum 2006; 54(3):711-5.
Decreased clinical response to infliximab in ankylosing spondylitis is correlated with anti-infliximab formation.
de Vries MK, Wolbink GJ, Stapel SO, de Vrieze H, van Denderen JC, Dijkmans BA, Aarden LA and van der Horst-Bruinsma IE. Ann Rheum Dis 2007; 66(9):1252-4.
Imaging and serum analysis of immune complex formation of radiolabelled infliximab and anti-infliximab in responders and non-responders to therapy for rheumatoid arthritis.
van der Laken CJ, Voskuyl AE, Roos JC, Stigter van Walsum M, de Groot ER, Wolbink G, Dijkmans BA and Aarden LA. Ann Rheum Dis 2007; 66(2):253-6.
Rituximab treatment in patients with primary Sjogren's syndrome: an open-label phase II study.
Pijpe J, van Imhoff GW, Spijkervet FK, Roodenburg JL, Wolbink GJ, Mansour K, Vissink A, Kallenberg CG and Bootsma H. Arthritis Rheum 2005; 52(9):2740-50.
Individualized monitoring of drug bioavailability and immunogenicity in rheumatoid arthritis patients treated with the tumor necrosis factor alpha inhibitor infliximab.
Bendtzen K, Geborek P, Svenson M, Larsson L, Kapetanovic MC, Saxne T. Arthritis Rheum 2006; 54(12):3782-9.
Influence of immunogenicity on the long-term efficacy of infliximab in Crohn's disease.
Baert F, Noman M, Vermeire S, Van Assche G, D' Haens G, Carbonez A, Rutgeerts P. N Engl J Med 2003; 348(7):601-8.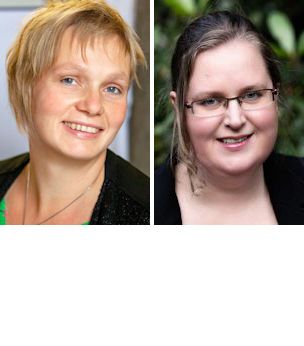 Contact
Need help?
Get in touch with Anja ten Brinke, PhD or Annelies Turksma, PhD
[email protected]