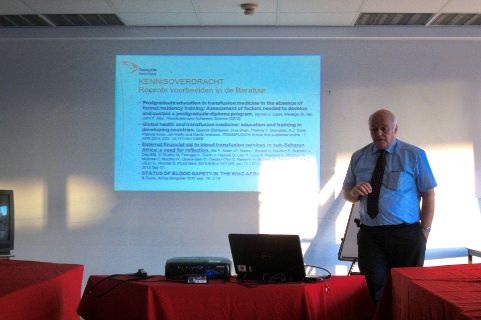 Upgrading the National Blood Transfusion Services in Sri Lanka
In July 2012 the Ministry of Health in Sri Lanka decided to start the project Upgrading the National Blood Transfusion Services of Sri Lanka with state of the art technology giving special emphasis to north and east. The government signed a contract with Simed International for this project. Sanquin Consulting Services is involved in the technical assistance and training part of the project.
Focus and background
The project aims to construct and equip two new blood bank buildings, as well as to upgrade peripheral blood banks in mainly the north and east of Sri Lanka with new equipment. In strengthening the National Blood Transfusion Service in the country, the following aspects are considered:
Testing of donated blood with ultra high sensitive methods (NAT)
Cord Blood Banking
Establishment of Aphaeresis centers in selected areas
Storage and transportation of blood products
Production of high value lifesaving drugs from unused blood components, such as plasma
Computerized network
Support a national stem cell transplantation program
Project partner
In this project Consulting Services provides technical assistance and creates a training program in collaboration with the National Blood Transfusion Service (NBTS) and Ministry of Health (MoH). The program is aiming for a training of trainers and capacity building for the specific fields.
Activities
Sanquin and the Academic Institute IDTM develop a tailor made training program in collaboration with NBTS and National Blood Center (NBC). Training activities start in the Netherlands and are implemented afterwards in Sri Lanka. The training includes the following aspects:
Implementation of nucleic acid testing (NAT) for blood products
Development of Frozen Red Cell Bank
Introduction of TEM as service for the hospitals
Support role of NBC for the development of a national Sri Lankan Stem Cell program, including:

HLA laboratory upgrading; implementation of molecular testing
Collection and processing of stem cells for patients
Processing of autologous stem cell products of (family and non-related) donors
Developing a Cord Blood Bank (CBB)

AABB (American Association of Blood Banks) accreditation for CBB is regarded as a first step in future AABB accreditation of NBC