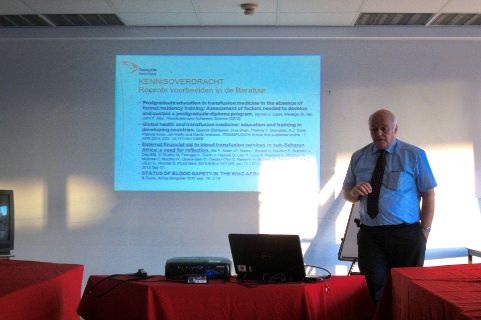 PEPfAR: Emergency Plan for AIDS Relief
President's Bush Emergency Plan for AIDS Relief (PEPfAR) was established by the United States Government in 2003 in response to the global AIDS crisis. PEPfAR works with non-governmental organizations and governments to reduce HIV/AIDS infections and improve living conditions for those affected by the disease.
Focus
the reduction of HIV / AIDS infections
rapid strengthening of blood transfusion services
Countries involved
Activities
From 2005 till 2010 Consulting Services has been active in the African countries Uganda and Zambia and involved in Rapid Strengthening of Blood Transfusion Services.
Focus is on capacity building and infrastructure building; the necessary prerequisites for sustainability. Additionally, Technical Assistance (TA) activities to contribute to develop appropriate donor management (including donor retention and the need for voluntary donors) and blood procurement systems and monitoring and evaluation as well as to improve a functional clinical interface and clinical awareness to develop appropriate clinical use of blood. Capacity building includes management training at different levels for implementation of a national blood supply organization.
Blood donors in Uganda
Key is the implementation of the quality concept. Activities performed added to these goals and focused on the creation, establishment and consolidation of a quality culture and awareness throughout the organization and its prime providers and customers, as well as the support to come to appropriate c-GMP complying facilities. Also to implement the more technical aspects of the programme – processing blood and testing, proper storage and distribution and capacity building especially for the managerial functions and including the legal framework. In both countries planned construction and renovation activities are ongoing.
1. Workshops and training
donor retention
clinical interface
laboratory training
processing, quality, monitoring and evaluation
management
2. Training of selected staff in The Netherlands
3. Guidance and advice
quality management
national blood supply organizations
legal framework
capacity building, both technical and managerial
senior management meetings
(re)construction of premises
equipment
procurement process and protocols
4. Project management for both countries