Sanquin Research Alumni Event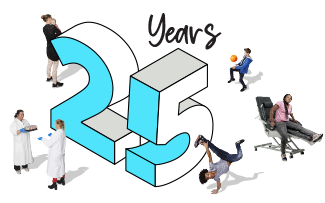 To celebrate Sanquin's 25th anniversary, Sanquin Research will organize an alumni event on Friday 16 June 2023. After an entertaining scientific program, we offer a buffet style dinner and a party in our inner gardens.
We invite all employees who worked or work at Sanquin Research, CLB or Dutch (regional) blood bank Research departments to join us for this scientific reunion.
We are excited that the following CLB/Sanquin Research alumni have accepted our invitation to reminisce about their time at the CLB or Sanquin, and talk about their current activities.
Fiamma Salerno: postdoctoral researcher at LUMC
Hans Zaaijer: group leader at Sanquin Research
Kees Melief: Chief Scientific Officer bij ISA Pharmaceuticals
Linde Meyaard: Professor at UMCU
Ron Fouchier: Professor at ErasmusMC
Susanne Lens: Professor at UMCU
Syeldy Langli Sasongko: Research consultant EHA
Willem Ouwehand: Professor at Cambridge University
The symposium will be held in English.
You will help us enormously if you spread the word by informing or mailing former colleagues about this event.
The event will be held at the Plesmanlaan 125, where limited capacity is available. If you want to join this event, please sign up early.
More information will follow in due cause on this website.
Preliminary program
12:30 Registration
13:00 Symposium "Past and present"
17:00 Drinks and nibbles
18:00 Buffet and party (until ca 22:00 hrs)
Location
Sanquin Headquarters
Plesmanlaan 125
NL 1066 CX Amsterdam
The Netherlands
Registration
Please, use this form to register for this alumni event. Registration will close on 30 May 2023.
Questions or more information? Please mail us