Sanquin Research Alumni Event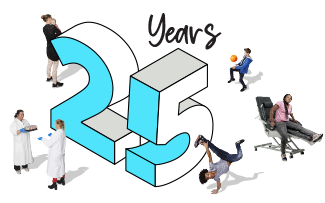 To celebrate Sanquin's 25th anniversary, Sanquin Research organized an alumni event on Friday 16 June 2023. After an entertaining scientific program, we had a buffet style dinner and a party in our inner gardens.
Please, have a look at our photographic impression of the event.
The following CLB/Sanquin Research alumni have accepted our invitation to reminisce about their time at the CLB or Sanquin, and talk about their current activities.
Fiamma Salerno | postdoctoral researcher at LUMC | A balancing act: from mRNA to life
Kees Melief | Chief Scientific Officer bij ISA Pharmaceuticals | Everything you always wanted to know about Sanquin, but were afraid to ask
Linde Meyaard | Professor at UMCU | In search of (immune) balance
Willem Ouwehand | Professor at Cambridge University |A 20-year journey of genome-wide studies – any wiser?
Susanne Lens | Professor at UMCU | From immunology to chromosomal chaos
Syeldy Langi Sasongko | Research consultant EHA | COVID-19: An opportunity window for organizational impacts and changes in Sanquin
Hans Zaaijer | group leader at Sanquin Research | Bloody bugs