Problems and questions from clinic and practice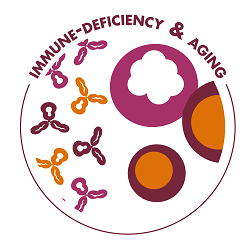 The immune system takes care of defense against infections and is able to remove (some) malignant cells. Some people with immune deficiencies have congenital defects in certain proteins or cells that are important for the defense system to function optimally. These defects can be hereditary, but can also result from spontaneous genetic mutations. Furthermore, (certain pathogens, such as HIV, EBV and CMV), illnesses and therapeutic treatments (against cancer and auto-immune diseases) can weaken or exhaust the body for certain antibodies, causing the occurrence of immune deficiencies. Finally, it is becoming ever more clear that the immune system also becomes less effective as we become older. In all these cases people are subject to repeated infections, and there is an increasing chance of the development of tumors.
The question is what exactly is happening in these patients, and how can one intervene to allow the immune system to function properly again in each specific patient?
It is also important to measure accurately whether the treatment is effective, and that the patient shows no reaction against the drug, causing the treatment to be ineffective. It is important as well to measure and possibly prevent adverse reactions that make the treatment unsafe.
Solutions: Sanquin products and services
For many years, Sanquin has been manufacturing drugs from the plasma of voluntary donors, to be used for patients who lack or have a too low concentration of certain immune factors. IVIg (Intravenous Immunoglobuline) consists of antibodies from plasma of a large pool of donors, used to protect patients - who lack antibodies themselves - against infections after intravenous administration. IVIg is also used for certain auto-immune diseases to reduce the disease symptoms.
C1 esterase is purified from plasma and is administered to patients who have a congenital or acquired lack of this molecule, and who therefore have anomalous immune reactions.
Allogeneic stem cells of voluntary donors are produced in the Laboratory for Cell Therapy (LCT), and are administered to patients who no longer have any immune cells after anti-cancer treatment. These stem cells can form new immune cells in the patient and in this way give them a completely new immune system.
In all the aforementioned cases, it is important that the efficacy of the therapy is studied as well as possible, and that we understand why in some patients therapy is no longer effective in the long term. It is possible that patients recognise the antibodies or cells in the drug as foreign. This can cause reactions that remove the drug or make it ineffective. Sanquin's diagnostic and research divisions develop tests to measure the efficacy of the therapy. Much research is carried out into the question as to why the therapy is ineffective or causes adverse reactions.
Finally, much Sanquin research is focused on the question of why aging causes the immune system to be less efficient.
In addition to producing drugs and performing research into the efficacy of a therapy, Sanquin investigators disseminate their knowledge via academic, intermediate and higher education, scientific and clinical congresses and through consultation with physicians and patient organisations.
Coordinators
Dr Theo Rispens and Dr. Gestur Vidarsson
Research groups
Antigen specific B cell responses (Prof Marieke van Ham PhD)
Biology and therapeutic exploitation of T cells (Derk Amsen PhD)
Blood Cell Research (Product and Process Development, Blood Bank) (Dirk de Korte PhD)
Blood-borne Infections (Prof Hans Zaaijer MD PhD)
Clinical Transfusion Research (Marian van Kraaij MD PhD)
Complement Research (Ilse Jongerius PhD)
Control of erythropoiesis and megakaryopoiesis by environmental factors (Marieke von Lindern PhD)
Donor Behaviour (Prof Eva-Maria Merz PhD)
Donor Cognition (Elisabeth Huis in 't Veld PhD)
Donor Health (Katja van den Hurk PhD)
Epidemiology of transfusion medicine (Prof Anske van der Bom MD PhD)
Experimental Immunohematology (Prof Ellen van der Schoot MD PhD)
Immunoglobulin Research (Gestur Vidarsson PhD)
Inflammation (Prof Sacha Zeerleder MD PhD)
Methodology of etiologic clinical transfusion research (Rutger Middelburg PhD)
Phagocyte Laboratory (Prof Timo van den Berg PhD, Prof Taco Kuijpers MD PhD)
Plasma Proteins & Research Facilities (Maartje van den Biggelaar PhD)
Proteomics and biomolecular mass spectrometry of hemostatic processes (Prof Sander Meijer PhD)
Structure & function of antibodies (Theo Rispens PhD)
Transfusion Technology Assessment (Mart Janssen PhD)
Translational Immunohematology (Prof Masja de Haas MD PhD)