Problems and questions from clinic and practice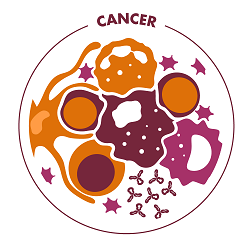 Even though significant progress has been made in the treatment of cancer over recent decades, mortality and morbidity are still high, and the prognosis for patients with certain forms of cancer has shown very little improvement. There is also a great need for good alternatives for existing therapies, such as chemotherapy, as these are a great burden on the patients. Finally, the increasing aging of the population will lead to an increasing number of cancer patients, creating not only medical-ethical, but also major socio-economic problems. Especially in the treatment of cancer patients, there is a significant growth in the number of available innovative and often expensive drugs, and this creates stumbling blocks for the affordability of healthcare.
Solutions: Sanquin products and services
Sanquin is focused on improving treatment of cancer patients, especially in the areas below.
I hematopoietic stem cell transplantation
The accredited Laboratory for Cellular Therapy (LCT) processes and stores, amongst other material, hematopoietic stem cells (HSC) for transplantation into patients with the relevant hematological malignancies or solid tumors. The hematopoietic stem cell transplantations are carried out in close collaboration with the Academic Medical Center, Amsterdam, Vrije Universiteit Medical Center and the Dutch Cancer Institute (NKI). These are supported further by various diagnostic services, such as HLA-typing for donor matching and (immune) therapy monitoring. These services provide further support by supplying and studying blood cell products as 'support' therapy in the control of chemotherapy-related anemia and thrombocytopenia (see also the medical needs Anemia and Bleeding & hemostasis).

II Immunotherapy
Prothya Biosolutions provides immunoglobulins for disease and therapy-related acquired immune deficiencies in cancer patients. The LCT also produces ATMPs (advanced therapeutic medical products): cellular immunotherapeutic products for various clinical trials for the benefit of anti-cancer immunity in patients with metastasised cancers, such as mesenchymal stromal cells (MSC), tumor-infiltrating lymphocytes (TIL), dendritic cells (DC) and chimeric antigen receptor T cells (CART). Within the Immuno-monitoring Platform, services are offered to study the clinical-immunological effect of immunotherapy in cancer such as diagnostic tests determining the formation of inhibitors against biologicals.

III Diagnosing malignancies in blood and bone marrow
Together with Sanquin Diagnostic Services division Sanquin Research is constantly improving and developing diagnostic tests and services to further diagnosing and treatment of cancers.
It is important to emphasise that Sanquin is a not-for-profit organisation, as opposed to other producers of cancer drugs such as pharmaceutical companies. Apart from covering the production costs, the proceeds from our products and services are therefore invested exclusively in research and education for the improvement of diagnosing and treatment of cancer (and diseases as defined with the other medical needs). This contributes to an open and affordable development and production of drugs. Sanquin has a special study population in the form of its blood and plasma donors. With that population, longitudinal studies into early diagnosis and incidence of forms of cancer are made possible.
Coordinators
Monika Wolkers PhD and Hanke Matlung PhD
Research groups
Antigen presentation and immunotherapy (Robbert Spaapen PhD)
Biology and therapeutic exploitation of T cells (Derk Amsen PhD)
Blood-borne Infections (Prof Hans Zaaijer MD PhD)
Blood Cell Research (Product and Process Development, Blood Bank) (Dirk de Korte PhD)
Cell adhesion and migration (Coert Margadant PhD)
Clinical Transfusion Research (Marian van Kraaij MD PhD)
Control of erythropoiesis and megakaryopoiesis by environmental factors (Marieke von Lindern PhD)
Donor Behaviour (Prof Eva-Maria Merz PhD)
Donor Cognition (Elisabeth Huis in 't Veld PhD)
Donor Health (Katja van den Hurk PhD)
Epidemiology of transfusion medicine (Prof Anske van der Bom MD PhD)
Erythropoiesis in healthy and deregulated hematopoiesis (Micha Nethe PhD)
Experimental Immunohematology (Prof Ellen van der Schoot MD PhD)
Hematopoiesis (Emile van den Akker PhD)
Immunoglobulin Research (Gestur Vidarsson PhD)
Inflammation (Prof Sacha Zeerleder MD PhD)
Laboratory for Cell Therapy (Carlijn Voermans PhD)
Molecular Cell Biology Lab (Prof Jaap van Buul PhD)
Phagocyte Laboratory (Prof Timo van den Berg PhD, Prof Taco Kuijpers MD PhD)
Plasma Proteins & Research Facilities (Maartje van den Biggelaar PhD)
Proteomics and biomolecular mass spectrometry of hemostatic processes (Prof Sander Meijer PhD)
Resident T cell memory (Klaas van Gisbergen PhD)
Structure & function of antibodies (Theo Rispens PhD)
T cell Activation and Regulation (Pleun Hombrink PhD)
T cell differentiation (Monika Wolkers PhD)
Transfusion Technology Assessment (Mart Janssen PhD)