Problems and questions from clinic and practice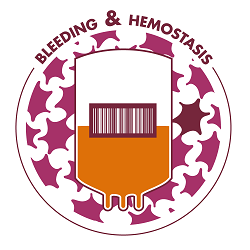 Blood contains platelets and a large number of proteins that ensure that blood remains liquid inside the bloodstream and coagulates outside the bloodstream (hemostasis). These components work constantly to adjust the equilibrium between the solid and liquid state of the blood, depending on the needs of the moment. Unfortunately that still can often go wrong. This can cause coagulation problems in patients, including amongst others serious bleeding after childbirth, extensive traumas or operations, sepsis, diffuse intravascular coagulation, hemophilia, von Willebrand disease, idiopathic thrombocytopenic purpura, Glanzmann disease, thrombophilia with cancer, deep vein thrombosis and pulmonary embolism.
The question is what exactly is happening in these patients? What goes wrong in these patients and why, and what can we do to prevent it from happening? The answers to these questions will lead to prevention and/or improvement of the treatment of patients with the aforementioned problems.
Solutions: Sanquin products and services
Donor blood is seperated into three components: red blood cells, platelets and plasma. The various coagulation proteins from the donor plasma are processed into products separately or in combination. Depending on the daignosis, patients with coagulation problems are treated with one blood component or a combination of blood components. In addition to increasing the knowledge required to adjust the treatment strategies as well as possible to the need of each unique patient, and supplying the required products, Sanquin contributes in converting this knowledge into decision-supporting instruments (standards, guidelines, decision making, product leaflets), and disseminating this knowledge through educating (individually, courses, congresses, symposia) patients and healthcare professionals, supporting home treatment of patients with chronic coagulation disorders, diagnosing patients with coagulation disorders, and keeping up a knowledge centre on hemostasis.
Coordinators
Maartje van den Biggelaar PhD, Prof Jan Voorberg PhD
Research groups
Antigen specific B cell responses (Prof Marieke van Ham PhD)
Blood-borne Infections (Prof Hans Zaaijer MD PhD)
Blood Cell Research (Product and Process Development, Blood Bank) (Dirk de Korte PhD)
Cellular Hemostasis (Prof Jan Voorberg PhD)
Clinical Neonatal Transfusion Research (Suzanne Fustolo-Gunnink MD PhD)
Control of erythropoiesis and megakaryopoiesis by environmental factors (Marieke von Lindern PhD)
Donor Behaviour (Prof Eva-Maria Merz PhD)
Donor Cognition (Elisabeth Huis in 't Veld PhD)
Donor Health (Katja van den Hurk PhD)
Experimental Immunohematology (Prof Ellen van der Schoot MD PhD)
Immunoglobulin Research (Gestur Vidarsson PhD)
Molecular Hemostasis (Prof Joost Meijers MD PhD)
Pediatric Hematology (Prof Karin Fijnvandraat MD PhD)
Phagocyte Laboratory (Prof Taco Kuijpers MD PhD)
Plasma Proteins & Research Facilities (Maartje van den Biggelaar PhD)
Proteomics and biomolecular mass spectrometry of hemostatic processes (Prof Sander Meijer PhD)
Transfusion Technology Assessment (Mart Janssen PhD)
Translational Immunohematology (Prof Masja de Haas MD PhD)