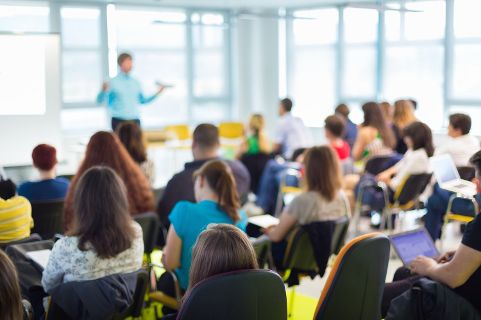 Due to the Corona measures we are not able to offer internships at the moment. Sanquin extended the Corona-regulations until at least 1 July 2021.
Research
Covering the complete spectrum of blood and blood transfusion research, division Research aims to perform original work on not only basic and clinical but also applied topics. Studies are aimed at the development and improvement of cellular blood products and plasma products. As a consequence, our research departments deal with a complementary range of subjects including fundamental biology and biochemistry of blood cells and plasma proteins, hematopoiesis, immunohematology, coagulation, immunopathology, blood-borne infections, blood transfusion technology, transfusion monitoring, transfusion medicine, and donor studies.
Within Sanquin, research relating to blood transfusion medicine and immunology in the broadest sense is performed by a dedicated research staff. This staff consists of about 120 researchers (including many scientists holding professorships, and around 60 PhD students), and over 80 technicians. Every year over 225 papers are published, mainly in peer reviewed journals and about 15-20 PhD theses are defended. A major part of the research takes place in different departments of Sanquin Research, located on the premises in Amsterdam and Leiden.
Research Facilities
Confocal microscopy
Mass spectrometry
Sequencers
Wide-field imaging
Flow cytometry
Image stream
Diagnostic Services
The division Diagnostic Services advises and conducts blood testing in the field of transfusion medicine and immunology. It tests blood and tissue donors, develops new tests and closely cooperates with the division Research and external partners like (academic) hospitals, universities, other knowledge institutes and industry.
Diagnostic Services is active in the field of:
Immunological disorders (immune deficiencies, transplantation, autoimmunity, allergy)
Clotting and bleeding disorders
Hematological disorders (leukemia, hemochromatosis)
Blood-borne Infections (Q-fever, hepatitis B/C, HIV and more)
Transfusion research (blood group antigen typing and HLA-related research, allo- and autoantibody-mediated blood cell destruction and immunohematological diagnostics)
Sanquinnovate
Sanquinnovate is Sanquin's exploitation arm, creating new value-adding products and services/assets to tackle challenges in the hematology, immunology and oncology.
Through top-notch scientific research, dedicated business development and project management we are committed to generate and further develop early ideas into meaningful therapeutics, blood products and diagnostics products for patients with unmet medical needs.
Consulting Services
Consulting Services (SCO) offers guidance and advice to restricted economy countries in the field of blood transfusion improvement projects. This guidance and advice consists of training possibilities for developing countries and tailor-made education programs at all levels of the transfusion organization. In close relationship with the Academic Institute for International Development of Transfusion Medicine (IDTM) SCO supports a traineeship for the Master for Management of Transfusion Medicine. The main focus of SCO is advising blood bank establishments on development of safe, effective and sustainable blood services and transfusion structures at national and regional level, including quality management.
Sanquin offers
Bachelor & master training programs
Inspiring colleagues
International academic environment
Multi-disciplinary research
Guest lectures and master classes by visiting researchers
Daily supervision
Modern equipment and facilities
Modern (electronic) library facilities
State-of-the-art research techniques
The possibility to obtain a PhD position or become a laboratory technician
Sanquin expects
Enthusiasm
CommitmentAccuracy
Flexibility
Collegiality
Medical, life science, epidemiology, social science or laboratory training
Working knowledge of English
Research report/publication(s)/thesis
Research presentation